5 Tips on How to Get The Kids Excited About Cleaning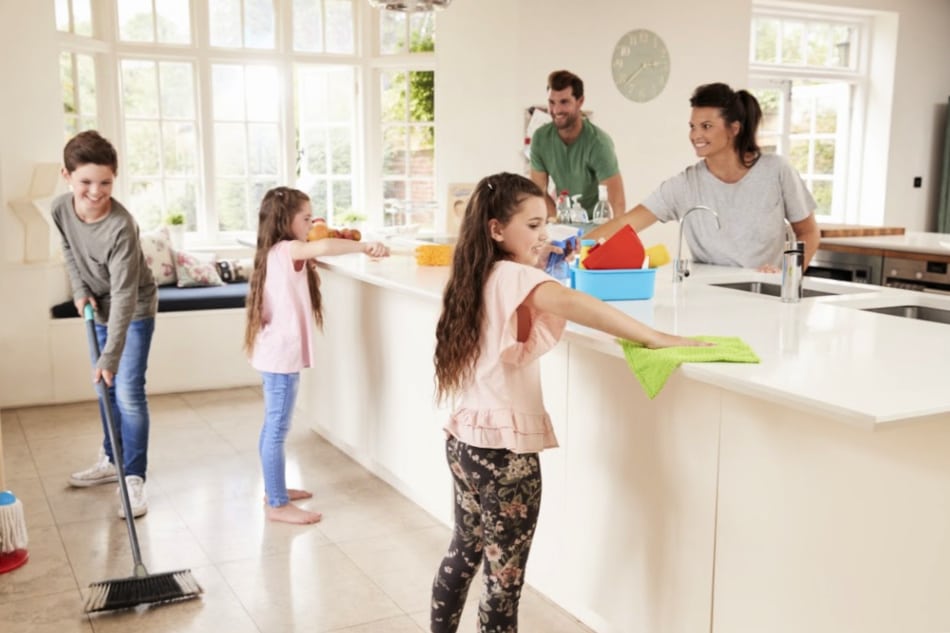 Trying to keep a house clean is a huge undertaking, but it can be even more of a challenge when the kids are home! That routine you developed to keep the house clean just went out the window because sweet Susie just dumped out all her crafts on the living room floor, or Johnny has left those small little feet destructors (some call the Legos) all over the floor of his room.

We all love having our kids around but when you are working and managing a family it can be hard to keep all the balls in the air and have an HGTV approved home. We have some good news! There are ways to get the kiddos involved in cleaning, make it fun, and have time left over to spend some much-needed time out at the park or other fun activities. Let this 5 step guide be your inspiration for all the other opportunities there are to get your kids excited about cleaning!

1. Turn Cleaning into a Dance Party
Who doesn't get excited about a great song on the radio? When it is time to start putting all those toys away, turn it into the coolest kids' party on the block. There are so many kids stations out there that have upbeat music that your kids will love (and are appropriate for all ages). Turn on the tunes and have the kids dance those toys and clothes right into the right spot. Feel free to give them some time for some freestyle moves as well.

2. Create a Little Healthy Competition
This is always a good one for the competitive spirits in your home. Give out a chores list that equals about the same amount of time and the person that completes them first wins! Make sure you remind them their time will be docked for tasks that are not done thoroughly and/or accurately. The winner gets to pick a dessert that night or what they want for dinner. This helps them stay focused and engaged. A good alternative if you only have one kiddo in the house is to set a timer and have them race against the clock.

3. Play a Chores Game
Chores games can be a great way to have a little fun, but also divide out tasks. One recommendation is to attach cups with chores inside to the back of a table and have the kids roll a ping pong ball into the cup. Each cup has a chore in it! Allow them to trade with the others if the others are open to it. It gives them a fun activity to play before getting into the chores.

4. Make a scavenger hunt
We love the idea of a scavenger hunt. Give the kids a clue and a chore to do, once they complete that chore give them the next clue and the next chore. Once they have completed all the chores they will have enough clues to find a special hidden treasure. The treasure can be as simple as a snack pack or a small little trinket. Kids will be excited to find it and the house will be cleaned.

5. Kids Size Cleaning Tools
This one will probably be more little kid-focused but we cannot help but get excited about small cleaning tools. Nothing empowers a kid more than to have things that their parents have also. There are so many brands out there that have kids-size vacuums, and brooms. You can also get on Pinterest and find fun activities on building kid cleaning kits out of baskets and other household items. If you are making your own we encourage you to get the kids involved and let them help build their kits! One thing to remember if you buy a kid-size vacuum be prepared that they will probably want to vacuum everything, all day, but at least the floor will be clean!

These are just a few of many ways you can get kids excited about cleaning. These tricks also help you make memories with your kids that someday they may try with their kids, and you are creating great habits that will only benefit them in the long run!

Share your cleaning tips on Facebook and make sure you tag us in them @righttouchcleanshomes