To a Clean & Healthy Home for Your Family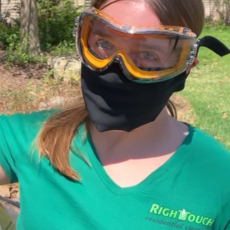 A clean house is the first line of defense for health.
Right Touch is in a unique position to be part of the solution.  As professional cleaners, we have in-depth knowledge and experience of how cleaning relates to preventing the spread of disease. 
COVID-19 Preparedness Plan
We have a COVID-19 Preparedness Plan that includes protective procedures to safeguard our employees and clients.  As we come into your homes, we want you to know that we are doing all that we can to give you peace of mind.
Social Distancing.  It is not a burden for us to clean while you are working from home or if your children are home.  Your technician will text you approximately 20 minutes before they arrive. This will give you time to prepare if you prefer to be out of the house.  We will be mindful of keeping a 6-foot distance. And, we ask that household members work or play in a different area of the house from the cleaning technicians.
 
Daily Health Screenings.  We understand the importance of staying home when sick.  To collect information for daily health screening of our employees, Right Touch is using the MN Symptom Screener tool.  It is also critical that you notify us if someone in your home is sick.
Wearing Personal Protective Equipment.  Our cleaning technicians have been given and were trained to use personal protective equipment including eye protection, face-masks, gloves, and rubber shoes. These shoes are only worn inside the home.  Additionally, our technicians will disinfect their rubber cleaning shoes between every home using a hospital-grade disinfectant that is EPA certified to use against the coronavirus.  They will wear new masks and gloves at every home.
High-Touch Points.  When cleaning, we will give special care to commonly touched surfaces of your home.  If you have disinfectant wipes that you'd like us to use, please leave them out.
Equipment Sanitizing.  We will sanitize all items brought into your home (carryall trays, spray bottles, vacuum bottoms, etc.) using a hospital-grade disinfectant that is EPA certified to use against the coronavirus. 
Reducing Exposure.  To reduce the risk of exposure, we will no longer change sheets on beds.  Please let us know if you have a disability that prevents you from doing this yourself and we can make an exception.
Microfiber Dusting.  Our technicians switched to using microfiber towels for dusting because they have been scientifically shown to trap and remove 99.99% of bacteria and other microorganisms. Office staff also sanitize them through the hot water sanitizing setting on our office washing machine.  (We have always sanitized our cleaning cloths and mop covers – this is nothing new).  To reach high areas and larger scale dusting, we will now provide each client your own blue microfiber duster that will stay in your home. 
Vacuums.  If you prefer we use your vacuum, just let us know via email.  
Thank you for your trust and confidence. We remain focused on serving you— always. 
If you have any questions, we would love the opportunity to talk with you.

~ The Right Touch Team